With the upcoming release of RT 4.2, we're excited to have users get their hands on the new features we've been using internally for a few months. To highlight these features and give you some background, we'll be publishing blog posts on key features as we've done in the past.
As always, RT 4.2 will come with a full set of upgrade scripts and additional upgrade information (which you can preview here), so we hope you'll be able to upgrade soon and take advantage of the new features. If you need help upgrading from any version of RT, we also offer a range of upgrade and support services. Just send email to contact@bestpractical.com.
New RT 4.2 Features
The first thing you're likely to notice is our new theme "rudder". It's cleaner and more modern looking, and we think you'll like it. This is a shot of the home page to give you a taste of what it looks like.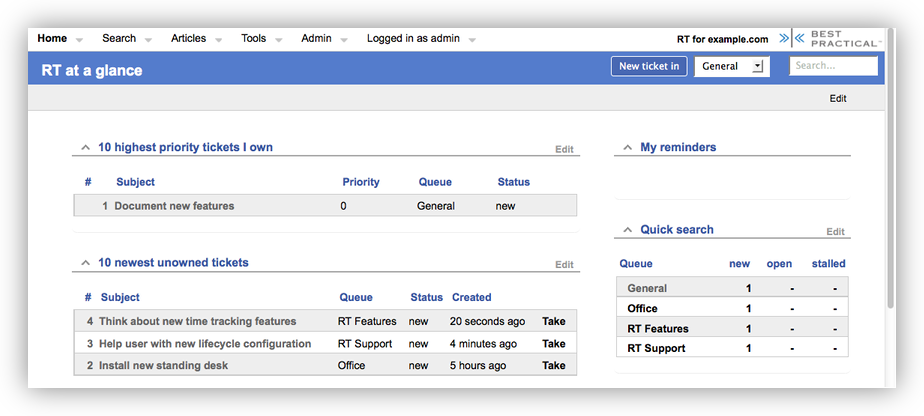 The aileron theme is still available as a personal or site-wide setting.
You'll also notice that we've made some changes to the menus.

You can find a description of the changes along with our reasoning in the menus blog post.
In addition to the new theme and menu changes, RT 4.2 brings a host of other new features:
Per-user Dashboard Configuration
SMIME Support
Thousands of small improvements and bug fixes
We'll provide details on these and more over the next few weeks. After the release, we'll publish all of the RT 4.2 documentation in the documentation section on the Best Practical site.
End of Life Products
As previously announced, Best Practical maintains and supports two major releases of RT at a time. As such, the release of RT 4.2 will mean RT 3.8 and other related products will be scheduled for end of life. We'll provide details on products, versions, and end of life dates in an upcoming post.