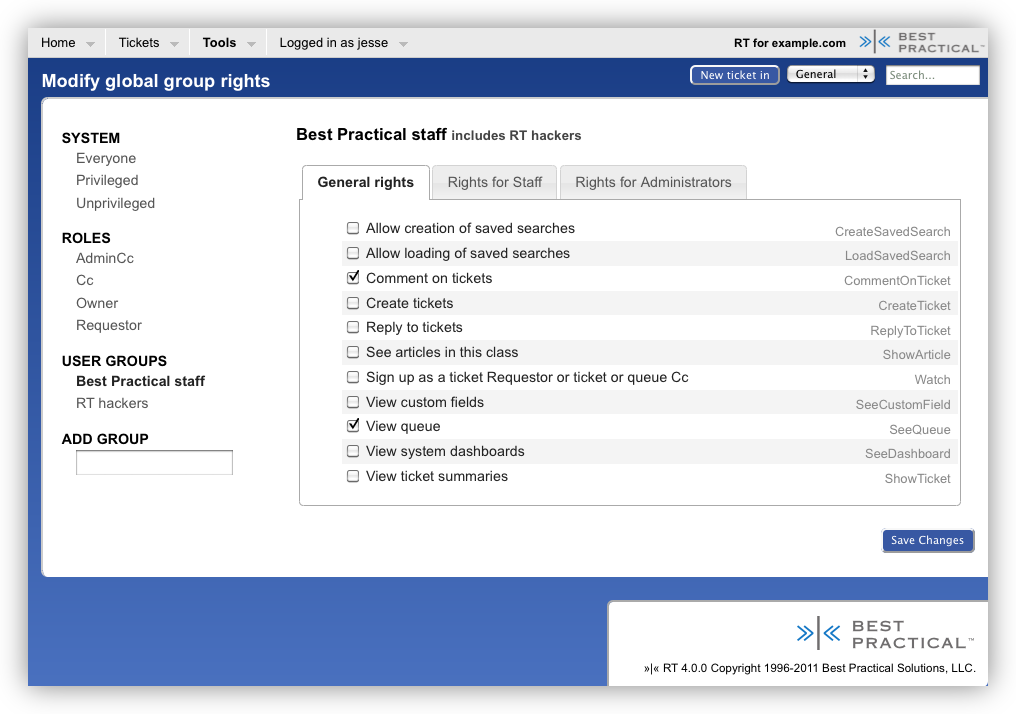 We completely revamped the user and group rights editor for RT 4. The new editor features a number of usability improvements:
Only the users or user-defined groups with rights granted to them are shown. This means you don't see every privileged user in the system when you just want to change rights for one. It also makes the editing rights much faster for systems with large numbers of users or groups.
Each right has a description which helps you find the one you actually want. If you're used to the short right names like us, you can click on those too.
Rather than a tiny select box or one long list, the rights are now grouped into logical tabs based on the most common type of user you might grant them to. The tabs are just suggestions though, and there are bound to be times when you want, for example, Requestors to have a right normally reserved for your staff.
Any subgroups of a group are shown next to the group name when you're editing rights. This quickly shows who else will inherit the rights you add or remove.
Adding rights to a user or group
If the group already has rights granted to it, simply click on the group name, click the rights you want to add, and Save Changes.
If the group doesn't have existing rights, begin typing its name into the Add Group field, and a list of autocompleted options will pop up. Choose the group you're looking for and then click on the rights you want to add, saving changes when you're done.
Removing all rights from a user or group
Uncheck every right from the user/group and click Save Changes. You should see a number of Right Revoked status messages (one for each right previously granted), and the user/group shouldn't appear in the left hand list. If they still appear, then you likely missed a right and should check again.